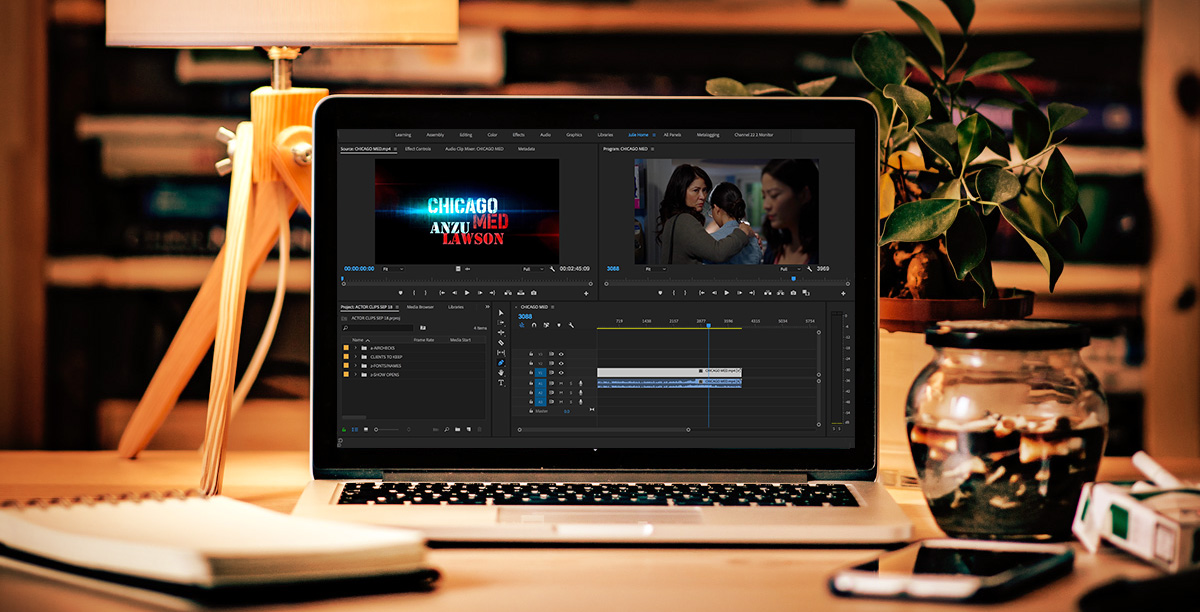 What is your turnaround time?
Orders for airchecks are delivered within 24-72 hours of your airdate or order if program has aired. We aim to deliver the first pass of your reel within five days of placing your order. Reel final edits are done within 72 hours.
What format are your files and how are they delivered?
Our files are 1920 x 1080 HD (when available). Older material may not be available in HD.
Files are delivered digitally via Dropbox. You do not need a Dropbox to download the files.
What is an Aircheck?
Airchecks are the clips of your work — you're checking what aired. The cost is $35 per project which includes all your scenes editing together with a title card featuring your name with the show logo. To order an aircheck go to the Order Now page, enter your details and select Add to Cart for an aircheck. If you need changes after delivery additional editing fees apply. But don't worry we're really good at this.
Do I have to know where my scenes are in the episode or movie?
We don't need time codes of the scenes. We scan the files and find the footage of your scenes. We might ask you how many scenes you were in, but that's all we need to start.
How do you know it's me?
When you place your order you send us a link to your IMDB page and/or a description.
What if I forget to place my order and it's the day after my show aired?
We don't record from the TV so you can place your order after the air date. We can get 99% of the scripted and reenactment shows airing on cable and network TV after they've aired.
Soaps on CBS can only be retrieved within 4 weeks of airing.
We can't pull court room reenactment shows and don't recommend them for use in reels.
What if my episode is from years ago?
We can probably still get it! So many TV shows and movies have been released digitally and on DVD which means if you're just now getting it together for a reel then you're in luck.
What if my scenes or cut or if I give you the wrong episode date?
There are no refunds on airchecks if your scene is cut, only credit on file for future airchecks or other services. Remember you can order it after it airs.
What if I don't have time to get my reel edited?
We don't do in person editing so the only time it takes is time to pay us and send an e-mail with your info. We've tried to set this up so that you pay, we do the work, and then we deliver. Waiting on actors to gather footage, find time to meet, etc. is really tough for everyone so why not let us do it for you.
Okay, I want to hire you to edit my reel what happens now?
Once you place your order we see which of your film and/or TV projects we can access in digital HD. Anything we can't get in HD we will ask if you have an online link to your copy or a DVD of it. Using a DVD is not our favorite way, but we use it if needed.
Once we have the footage we put the reel in the order we think works best unless you provide us with specific notes on what you have in mind. Whatever makes you feel confident about the project.
We take all the above info and create my first cut of the reel. We send you a link and you give me notes. We then send a final edit to you for review. If you need more than the one additional edit the cost is $15 per 15 minutes.
I already have a reel, can you add a scene or two to it?
Yes, we do this as editing by the hour and it's usually $30 – $60. Contact us so we can give you an exact quote.
What if I need a reel in 24 hours?
We can get it done for a rush fee of $100.
What if I don't know how to post anything online?
It's okay you're an actor not a tech geek. If you know nothing about computers and want me to post your reels for you on the various sites the cost is $50.
Do you make DVDs?
Yes, DVDs of your airchecks/clips and reels can be created and mailed to you for $10 per DVD.